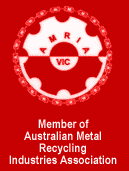 As a member of the Australian Metal Recycling Industry Association (AMRIA), Southern Cross Metal Recyclers is committed to responsible scrap metal recycling. We work with a full range of accredited companies within this sector, both in the local and overseas markets, to conduct business in accordance with guidelines as specified by the AMRIA Code of Conduct.
This network allows us to work ethically and efficiently, and to be at the forefront of developments and innovations within the scrap metal industry.
By partnering with Southern Cross Metal Recyclers, you're guaranteed to get a reliable and responsible service that works in unison with the broader community to prevent landfill and collectively reduce our environmental footprint.
About AMRIA
AMRIA was formed in 1993 to ensure that AMRIA members are both government-accredited and licensed to operate within the metal recycling service industry.
Individual companies that operate under the auspice of AMRIA are required to conduct their business in accordance with the AMRIA Code of Conduct. The Code provides members of AMRIA with a framework for responsible business practices, ensuring a high level of honesty, integrity, professionalism and ethical conduct.
AMRIA has successfully lobbied and worked in unison with government agencies for the implementation of legislation and changes to the Second Hand Dealers' Licensing Requirements.
AMRIA also worked with the Australian Taxation Office to help form the Scrap Metal Industry Code of Compliance, which laid the foundation for the direction and operational aspects of our industry and has lifted the bar for what it means to run acceptable business practices.
Get rid of your scrap metal easily and ethically with our reliable pick-up service. Whether it's a one-off fridge pick-up or you're clearing out a factory, our team will turn up with the right equipment at a time that suits you.


Enter your email to get the latest news and
offers:
Enter your email to get the latest news and offers: